Fresh from the NAFSA 2023 annual conference, our Vice President for Partner Success Megan Prettyman reflects on some of the key talking points and her observations on the direction of the market...
It was fantastic to connect with the international education community at NAFSA and discuss some of the core challenges institutions are facing globally when recruiting international students.
For me, one of the biggest takeaways of the conference was that the whole world is now in the game. Universities from non-traditional host countries like Fiji and Morocco were at the conference in force, and I think we're going to see more of this regional activity over the coming years.
If your competition is no longer just the traditional study abroad destinations (Australia, Canada, the UK, the US, and New Zealand) but 200 other countries, the days of organically attracting international students are over. It's clear then that in order to be successful, you need to be intentional.
I had a lot of conversations over the four-day conference with institutions who were trying to be just that, but were struggling with one process or another, or rightly, had questions about how exactly UniQuest could help.
So, in quick-fire style, here are the top five questions (or statements, in some instances!) I was asked at NAFSA and how I responded to them:
"I'm not sure where to get started with improving our international student recruitment activity, or where we're going wrong with our strategy."
This was one of the most common statements I heard. There are any number of things institutions could implement to address a specific problem, but an important starting point is to shift the way of thinking from the outset.

Rather than thinking of it as an admissions "funnel", institutions should consider their admissions pipeline. It's not just about making the funnel wider. That's obviously important, but if you're losing people along the way then it doesn't make sense to keep pumping volume in at the top. I spoke to one institution who said they typically receive about 1500 international applications, but the majority of their applicants never received an evaluation because they never submitted their missing requirements.

Thinking of it as a pipeline helps stakeholders to recognise that it's equally important to invest in a nurture strategy. Proactive outreach to students letting them know what next steps they need to take, and coaching them through the process, not only improves conversion rates, but builds affinity for your institution and delivers a personal touch.
Additionally, if you're not sure where or why you're losing students in the funnel, it's important to take a step back and go through a reflective exercise like value stream mapping. This will enable you to have a better understanding of your admission process and where students are getting hung up, and think about solutions.
"What is UniQuest's strategy for driving up conversion?"
Put simply, we focus on proactive outbound and reactive inbound activity. Our outbound campaigns reach out to students with catch-all one-to-many messaging – whether that be deadline reminders, important information about visa issuance, or inviting them to webinars to find out about campus life – as well as one-to-one communications to provide personalized nurturing through the application and enrolment processes. These outbound communications can also help students to pre-qualify themselves to avoid a bloated application pool, enabling them to potentially self-select out if they don't meet admission or enrolment criteria. This results in a more realistic pool of better qualified students.

Reactive inbound activity sees us responding to the enquiries institutions receive from prospective students, making sure students are getting timely, relevant, and authentic answers to their questions.
Additionally, we focus on driving reciprocal communications with students – this means getting them to engage in true ongoing conversations. Admitted students who engage in reciprocal communications convert to enrolments at a 26% higher rate than those who don't, so it pays to be responsive.
"How can you help us to process applications?"
It's clear that increased application volume is a universal problem at the moment. I was really surprised at the number of conversations I had at NAFSA, particularly with US institutions, where they were unaware that support is available for applicant processing. Many institutions reported they didn't have the bandwidth to adequately handle the growing volume, or the expertise to provide credential evaluation for applicants, and therefore many students were getting lost at this stage of the process.



UniQuest can help partners manage the strain caused by this influx in applications. This includes supporting applicants through the process, making sure all the relevant materials are submitted, and chasing applicants where it isn't; evaluating international credentials, verifying test scores, and checking for fraud; making recommendations on offers; and managing inbound applicant enquiries to reduce the burden on admissions teams. You can read about how we're providing this support to one of our US partners, Saint Martin's University.
"We need support but can't get internal buy in."
We know this can be tough, especially at institutions where there is a "use it or lose it" approach towards budgets. One of the key selling points here is the flexibility that external providers can offer. At UniQuest, we can scale up or down as required, and really target areas where the biggest impact would be felt. We can get you to where you need to be with more agility and adaptability than on your own, and typically for less cost than required for building out an internal team.



"WhatsApp is driving me crazy!"
An understandable problem! Some people I spoke to at NAFSA are currently managing the WhatsApp channel single-handedly and are being bombarded with weekend and middle-of-the-night messages – one person even received a WhatsApp message from a student in the middle of our conversation – talk about timely! It tends to be quick, immediate questions coming through WhatsApp and other live chat channels, and the same speed is expected in return. In fact, our data shows that 83% of students expect a same day response from institutions.



We also tend to see prospective students utilising WhatsApp later in the funnel, because they feel more familiar with the institution and its enrolment advisors at this point… so it's important not to inadvertently undo previous hard work here simply due to inability to respond in time. UniQuest can manage WhatsApp, live chat, and other communication channels on behalf of partners, providing immediate responses to students. Across our existing partner network, we've achieved 3.5 times better conversion rates admit to enrolment from those admitted students we've engaged on instant messaging.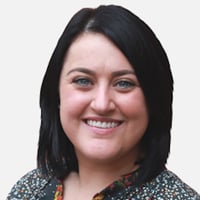 If you didn't catch Megan at NAFSA or would like to pick up on any of the above points, please contact her on megan@uniquest.global